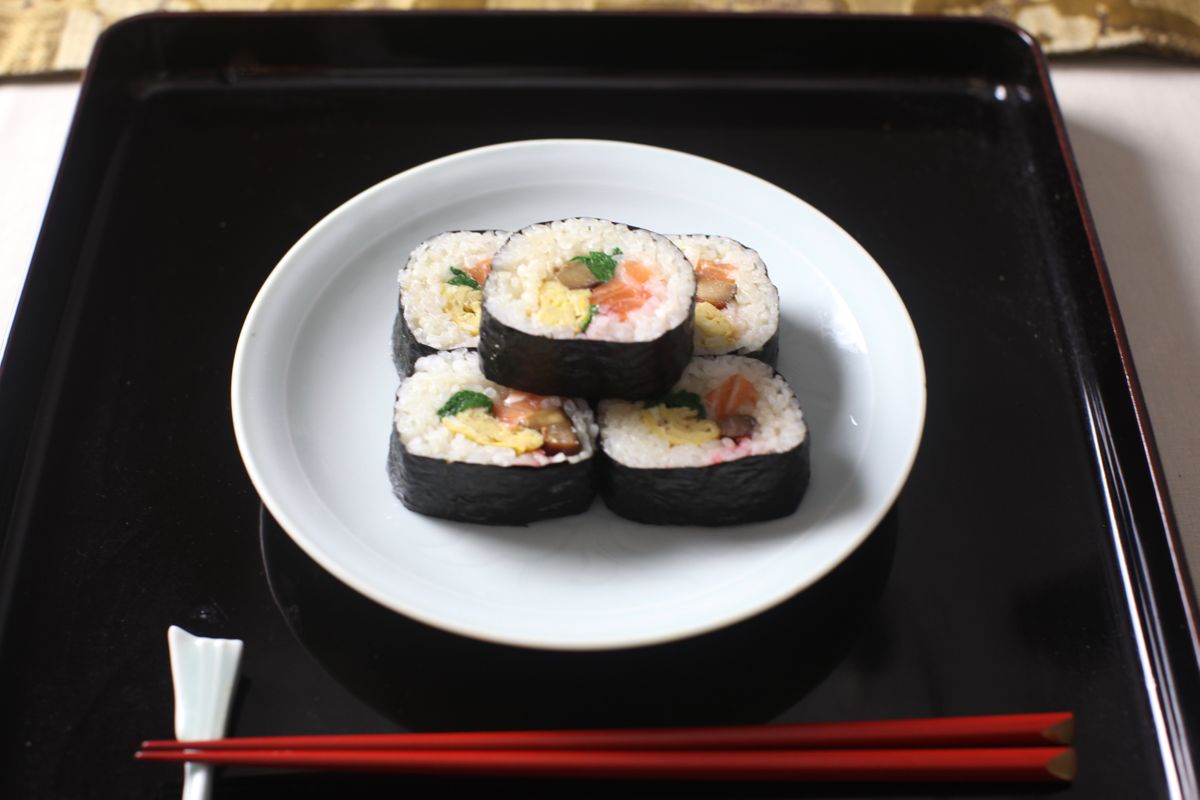 'Futomaki' Sushi Roll with Salmon
Ingredients: 5 Rolls
〜Dashimaki Tamago (Japanese Egg Omelette)〜
3 Eggs
90ml Dashi
1tsp Soy Sauce
1tbsp Mirin
1-2 tbsp Vegetable Oil
1. In a bowl, put 3 eggs and beat well.
2. Add all of the ingredients and mix well.
3. Spread oil in Tamago Pan ( Regular pan is ok too) on medium heat.
4. Pour the egg liquid into the hot pan and make thin layer.
5. When the egg is almost cooked, roll the egg up.
6. Repeat the same process several times.
7. Roll up the omelette with the bamboo sushi mat and squeeze gently.
Please check the video from here!
〜Simmered Shiitake Mushroom〜
6 Dried Shiitake Mushrooms
1 1/2 cup Water
2tbs Sake
2tbs Soy Sauce
2tbs Sugar
2tbs Mirin
1. Soak dried shiitake mushroom in 1 1/2 of water for 3hours.
2. Remove the stems and thinly slice the shiitake mushroom.
3. In a sauce pan, pour the shiitake water (from soaking) and add the sliced shiitake mushroom, sake, sugar, soy sauce, and mirin.
4. Cook them on high heat.
5. When it comes to boil, reduce the heat to low and cook for 15 min.
〜Sushi Rice〜
Short Grain Sushi Rice 2 1/4 cups
Water 580 cc
Dried Kombu (2.5×5 inch)
Rice Vinegar 80ml
Sugar 50g
Salt 15g
1. In a sauce pan, pour the rice vinegar and add sugar and salt. Cook and stir until the sugar is dissolved.
2. Wash the rice with running water over 5 times until there is no more white rice starch coming out of it.
3. Drain the water and place in a large pot. ( I always use staub or le creuset)
4. Add water and dried kombu.
5. Cover the lid and bring it to boil. ( It takes about 7 min)
6. When it comes to boil, reduce the heat to low and cook 12-13min.
7. Let stand for 15min with lid.
8. After 15 min, remove the kombu and transfer the rice in a large bowl.
9. Pour the vinegar liquid all over the rice and mix gently with spatula. While mixing, fan the rice to cool.
〜Other Ingredients〜
Seaweeds (8×7 inches) 5 sheets
Salmon (Sushi Grade) 1/2lb
Spinach 120g (boiled)
Sakura Denbu (Sweet Codfish flakes)
〜Supplies〜
Bamboo Sushi Mat
Tamago Pan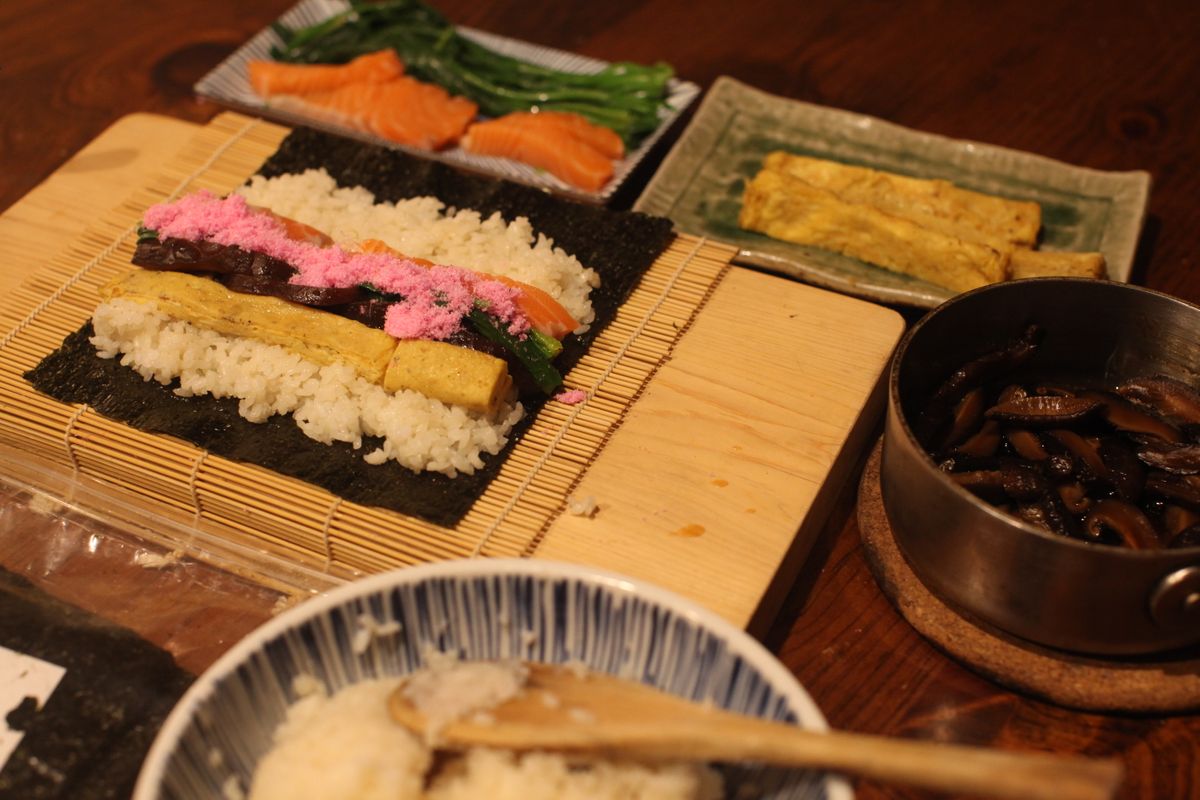 1. Put the seaweed on a bamboo sushi mat and spread the sushi rice on it.
2. Put a strip of dashimaki tamago (Cut into 6 strips) , spinach. shiitake mushroom, salmon and sakura dembu all the way across.
3. Lift the edge of mat from your side and roll them up tightly.
4. Cut the sushi roll into 7-8 pieces with wet sharp knife.