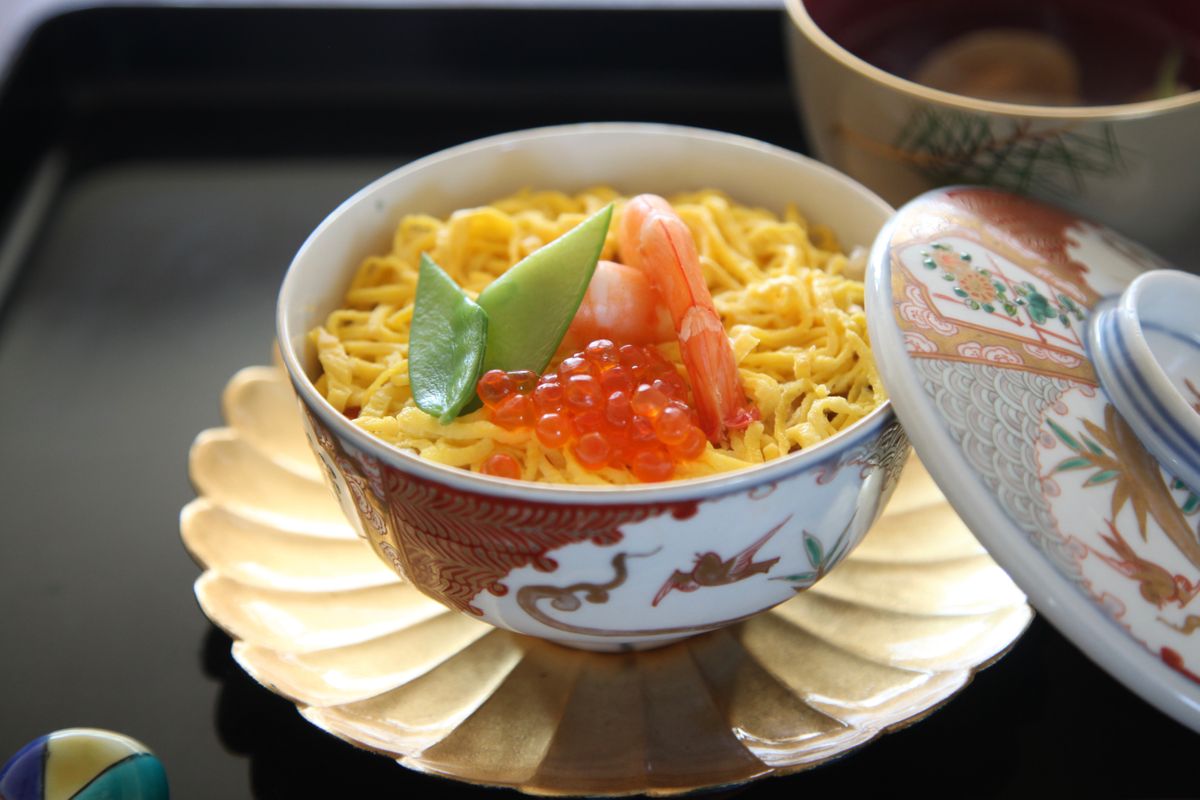 Mushizushi (Steamed Sushi)
Ingredients:
〜Sushi Rice〜
3 cups Short Grain Sushi Rice
3 cups Water
2.5×5 inch Dried Kombu
80ml Rice Vinegar
50g Sugar
1 Tbsp Salt
〜
20g Dried Shiitake
20g Kanpyo
200cc Water
1/2 tsp Salt
80g Carrot
2 Tbsp Sugar (I used beet sugar)
2 Tbsps Sake
2 Tbsps Mirin
2 Tbsps Soy Sauce
〜
5 shrimps
1/2 tsp Salt
1 Tbsp Sake
5 Snow Peas
1/2 tsp Salt
〜
2 Eggs and 1 Egg Yolk
1 pinch salt
1 pinch sugar
1/2 Vegetable Oil
3 Tbsps Ikura ( Salmon Roe)
1. In a sauce pan, pour the rice vinegar and add sugar and salt. Cook and stir until the sugar is dissolved. Set aside.
2. Soak the dried shiitake with 2 cups water.
3. In a bowl, put kanpyo and pour water and drain. Put salt on kanpyo and knead with hands. Pour water again on it and drain.
4. Boil the washed kanpyo for 15 min.
5. Wash the rice with filtered water over 5 times until there is no more white rice starch coming out of it.
6. Drain the water and place in a large pot. (You can use staub or le creuset)
7. Add water and dried kombu.
8. Cover the lid and bring it to boil. ( It takes about 7 min)
9. When it comes to boil, reduce the heat to low and cook 12-13min.
10. Let stand for 15min with lid.
11. After 15 min, remove the kombu and transfer the rice in a large bowl.
12. Pour the vinegar liquid (1) all over the rice and mix gently with wood spatula. While mixing, fan the rice to cool.
13. Cut the soaked shiitake, kanpyo and carrot into small pieces.
14. In a sauce pan, place the shiitake, kanpyo and carrot.
15. Add sugar, shiitake soaking liquid, sake, mirin, and soy sauce into (11). Simmer until the liquid almost reduced.
16. Add (12) into sushi rice and mix well with wood spatula.
17. Beat the eggs in a bowl and add a pinch of sugar and salt.
18. Pass the beaten eggs through the sieve.
19. Add the oil in a frying pan, pour the egg liquid and make the paper thin eggs.
20. Make the layer with thin baked eggs and rolled up, cut it with knife to make thin golden egg threads.
21. Place mixed sushi rice into the porcelain bowls, spread the golden egg thread on it.
22. Put the lid and place it into the steamer. Steam it for 10 min.
23. Peel and devein the shrimp. Add the salt and sake into the boiling water. Boil the shrimps for 2-3min.
24. Cook the snow peas in the salted boiling water for 2 min.
25. Arrange the shrimp, snow pea, and ikura (salmon roe) on steamed sushi.