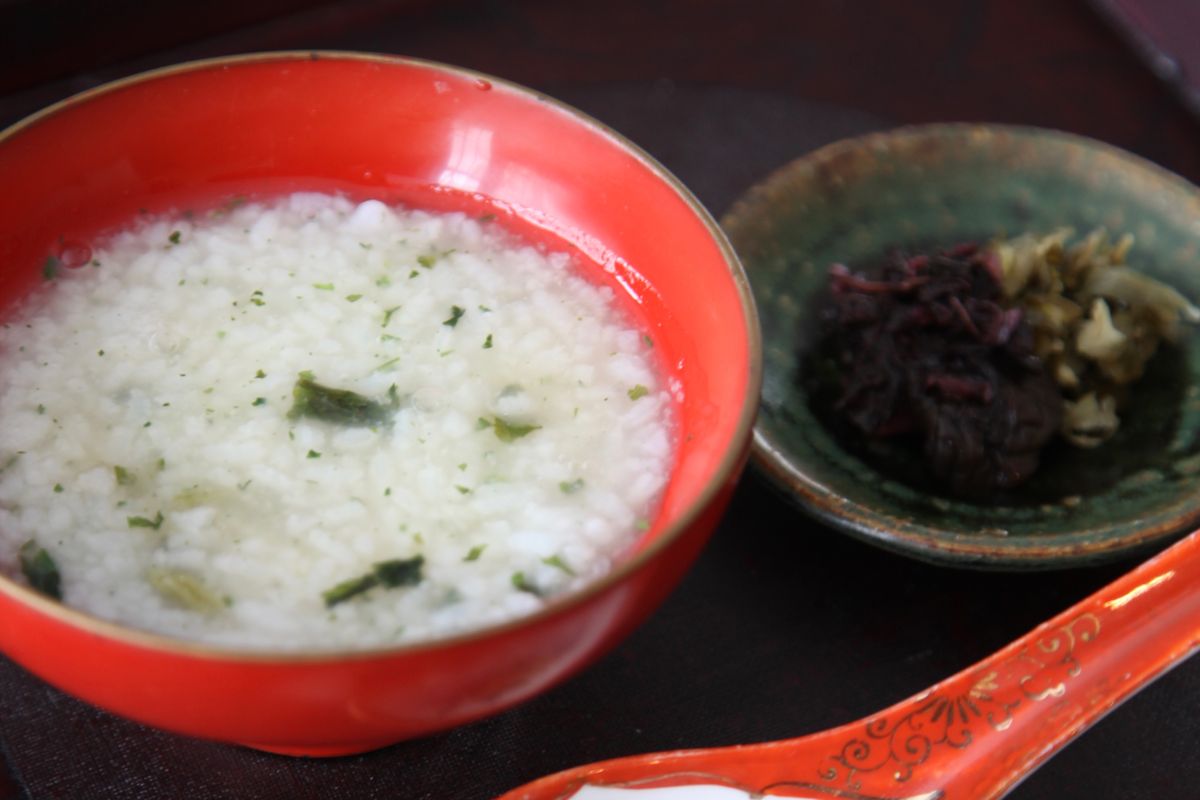 Nanakusa Gayu (Seven herbs rice porridge)
'Nanakusa Gayu' (Seven herbs rice porridge) is also a traditional Japanese New Year's dish. People eat Nanakusa Gayu on January 7th for rest the stomach after eating Osechi ( Japanese New Year's Feast).
Seven herbs are:
Seri (Japanese parsley)
Nazuna (Shepherd's purse)
Gogyo (Cudweed)
Hakobera (Chickweed)
Htoke no za (Nipplewort)
Suzuka (Turnip)
Suzushiro (Daikon Radish)
When I was a child, my mother taught me about these herbs and we picked them around the rice fields. It's one of my unforgettable experiences with my mother.
It's very hard to find these herbs in America, but I found freeze dried Nanakusa in a Japanese grocery store!
「せり、なずな、ごぎょう、はこべら、ほとけのざ、すずな、すずしろ」
この時期が来ると昔母と田んぼの畦道を歩きながら七草探しをしたことが思い出されます。近頃は土地開発が進みこのようなことができる環境も少なくなってきているのでしょうね。スーパーに行けば簡単にお手軽にパック入りの七草が手に入り、海外の大都市ではフリーズドライの七草が手に入る便利な時代。海外に居ながら子ども達に七草粥を食べさせることができるのは本当に有難いことですが、いつかあの時のように我が子たちとあの畦道で七草探しをしてみたいものです。
I used my favorite porcelain spoon that has a Buddha's hand citron plant painted on it. Buddha's hand citron is especially popular at New Year's, because it is believed to bestow good fortune on a household!
アンティークショップで見つけたお気に入りの散蓮華で。
おそらく中国のものですが、お正月のしつらえにも用いられる仏手柑に柘榴、桃の三果図があしらわれたおめでたい絵柄です。