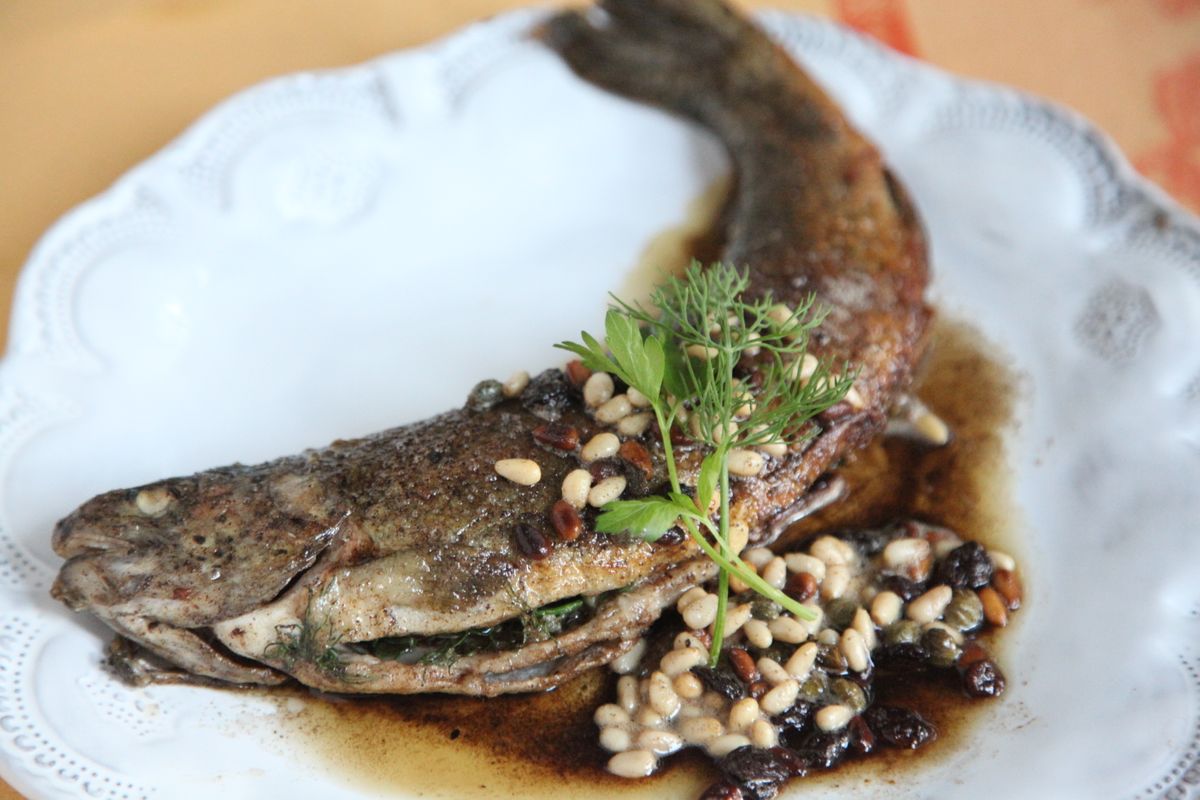 Pan Fried Trout with Caper & Pine Nuts
Ingredients:
4 rainbow trout
6 Tbs butter
1/2cup flour
8-10 stems dill
1/4cup pine nuts
1/4cup caper
1/4cup raisin
S&P
〜
1, Rince the trout under cold running water.
2, Remove the fish scale.
3, Pat dry and stuff the stomach area with the dill.
4, Sprinkle with salt & pepper.
5, Coat the trout in Flour.
6, Melt the butter in a large skillet on medium-high heat.
7, Place the trout and fly 4-5 minutes, then turn and fry 4-5minutes until the skin turns golden brown.
8, Remove and place on a plate and keep warm.
9, To the same skillet, add the capers, pine nuts, and raisin. Shake skillet often over medium heat until capers pop open, about 1minutes.
10, Spoon caper and pine nuts butter over fish and garnish with dill and parsley sprigs.
〜〜
ニジマスのムニエル ケイパーバターソース
材料
ニジマス 4匹
バター 85g
小麦粉 125g
ディル 8−10本
松の実 大さじ4杯
ケイパー 大さじ4杯
レーズン 大さじ4杯
塩胡椒 適量
作り方
1、ニジマスを流水で洗う。
2、内臓を取り出す。
3、キッチンペーパーで水分を取り除き、お腹にディルを詰める
4、塩胡椒をふる
5、小麦粉をまぶす
6、コンロの火を中〜強火に設定し、フライパンにバターを溶かす。
7、フライパンにニジマスを入れ、片面を4〜5分焼いたらひっくり返し、更に4〜5分、焼き色がつくまで焼く。
8、ニジマスを温めた皿に乗せる。
9、7のフライパンにケイパーと松の実とレーズンを入れ、フライパンを揺すりながら1分ほどソテーする。
10、ケイパーが花のように開いたら、魚の上にソースを回しかけ、パセリとディルを添えて盛り付ける。