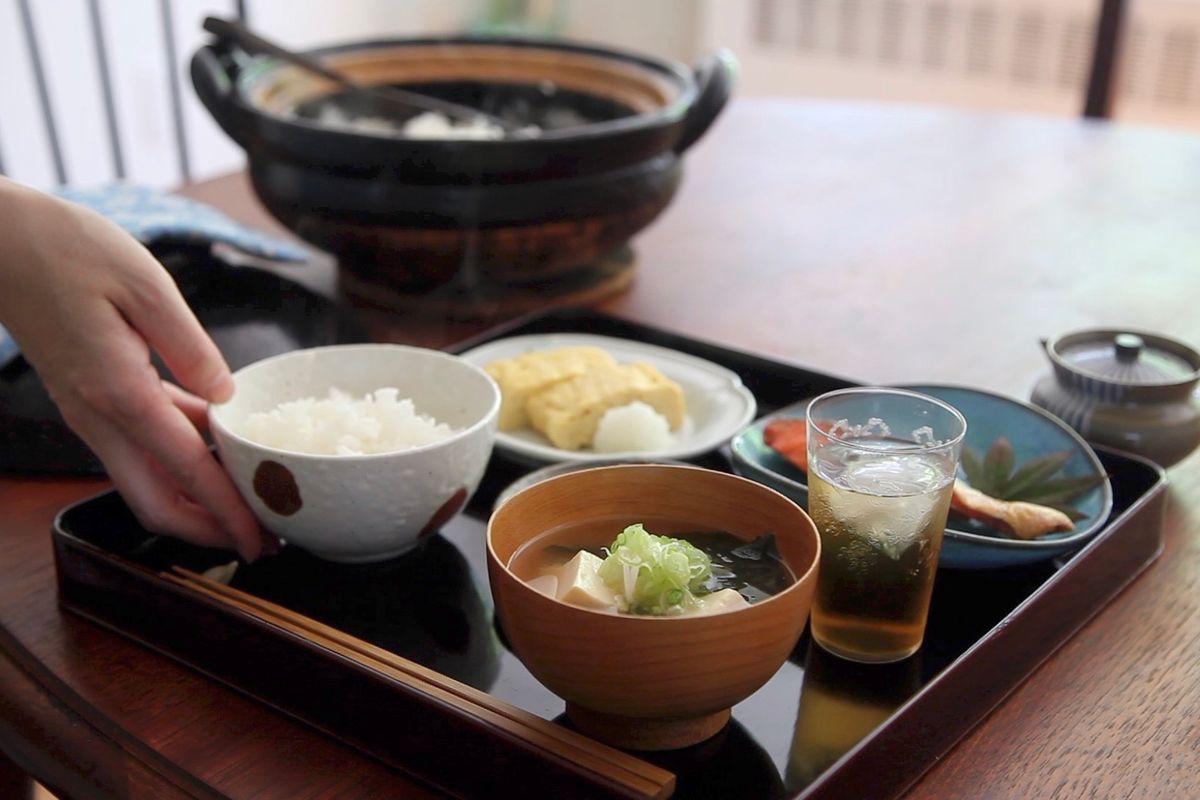 Japanese Breakfast (VIDEO)
DONABE (JAPANESE CLAY POT) RICE
Ingredients:
3 cups Short Grain Sushi Rice
3.5 cups Water
1. Wash the rice with running water over 5 times until there is no more white rice starch coming out of it.
2. Pour the water and leave for 30 min.
3. Drain the water and place in a large pot. ( I used Japanese clay pot 'Donabe')
4. Cover the lid and bring it to boil. ( It takes about 7 min)
5. When it comes to boil, reduce the heat to low and cook 12-13min.
6. Let stand for 15min with lid.
TOFU MISO SOUP
Ingredients: (Serves 4-5)
1 Silken Tofu
5g Dried Wakame Seaweed
1L Dashi
1/4 cup Miso
1. Pour dashi into the sauce pan. Turn on the heat to medium.
2. Cut the tofu into 0.5 -1inch cube.
3. Hydrate wakame seaweed in water for 10 minutes.
4. Add the tofu and wakame seaweed into dashi. Cook over a low heat for about 5 min.
5. Remove sauce pan from the heat and dissolve the miso into the soup.
CUCUMBER AND SALTED KOMBU SALAD
Ingredients:
1 Cucumber
1/2 tsp Salt
1 clove Garlic (Grated)
1/2 Tbsp Salted Kombu
1 tsp Sesame
1/2 Tbsp Sesame Oil
1 pinch Salt
1. Place the cucumber on the cutting board and sprinkle salt on it. Roll the cucumber with hands. Wash the cucumber with running water.
2. Beat the surface of cucumber with wooden stick. Cut the cucumber into bite-size pieces (Rangiri Cut).
3. Place the cucumber in a bowl and add the garlic, salted kombu, sesame, sesame oil and a pinch of salt and mix well.