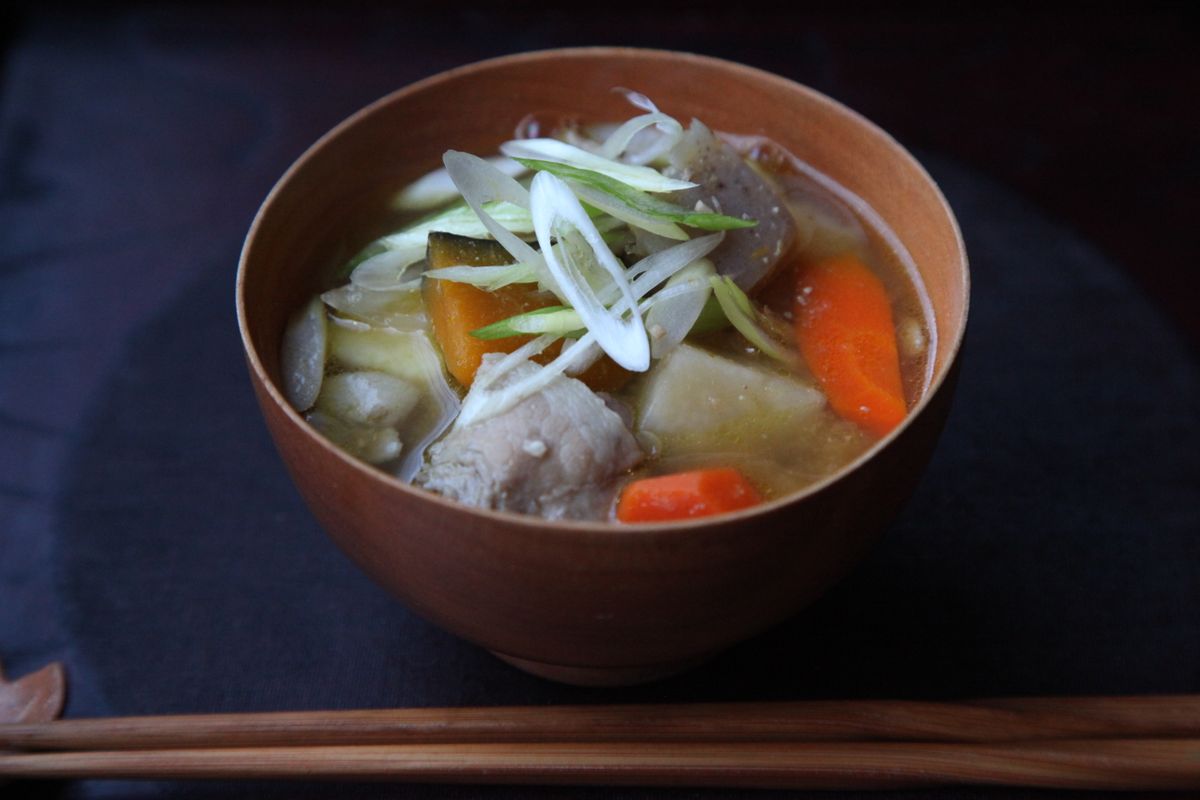 Tonjiru (Pork and Vegetable Miso Soup)
"Tonjiru" is one of Japan's comfort foods.
This soup is perfect for warming you up in this cold season.
Ingredients (serves4-5)
150g Sliced Pork Belly (Cut into bite-size pieces)
1 clove Garlic (Minced)
1 Carrot (Peel the skin and chop)
1/2 Burdock Root (Wash the surface with tawashi; hard brush and slice diagonally)
3 BabyTaros (Peel the skin and cut into quarter)
1/2 Japanese Sweet Potato (Slice into quarter rounds)
1/8 Japanese Pumpkin "Kabocha" (Slice into half inch slices)
1/2 Pack (150g) Konnyaku (Slice into rectangles)
2 stems Scallions (Chopped)
2 tbsps Sesame Oil
1/4cup Sake (Japanese Rice Wine)
1tbsp Soy Sauce
5 cups Dashi
1/4cup Miso
Shichimi Togarashi (Japanese mixed spice with chili)
1, Heat sesame oil in a pot and stir-fry burdock root for 3 min.
2, Add pork belly and garlic. Stir-fly for 1 min.
3, Turn up the heat to high and then add the sake.
4, Add carrot, konnyaku, Japanese pumpkin, Japanese sweet potato, baby taro.
5, Pour dashi into the pot.
6, When it comes to boil, skim off the scum. Add soy sauce and cook over a low heat for about 10 min.
7, Remove pan from the heat and dissolve the miso into the soup.
8, Pour the soup into bowl and sprinkle the scallion and shichmi togarashi on the top.